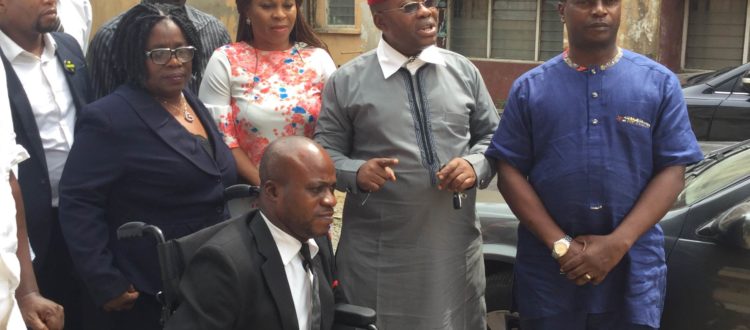 Ubani's Foundation, Lawyers Present Car, Wheelchair To Physically Challenged Lawyer
History was made on the 22nd of December, 2017 when a group of lawyers from Ikeja Branch of the Nigerian Bar Association coordinated by the 2nd Vice President of NBA, Mr Monday Onyekachi Ubani(MOU) whose Foundation, Ubani's Foundation kick started the process with initial seed, presented a car and a wheel chair to Mr Abdulasam  K. Idowu, the physically challenged lawyer from the Branch.
The presentation took place in the presence of some of the donors, lawyers, journalists and the representative of the governor of Lagos State, the Director of Citizens' Rights, Lagos State.
It was a glorious sight as Mr Idowu moved from the wheelchair straight into the Toyota Camry brand car and drove it to the admiration of all who were present.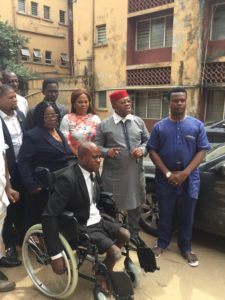 In making the presentation, Mr Ubani, currently the Chairman of Welfare Committee of NBA and 2nd Vice President thanked the donors and well wishers who came to witness the occasion.
He specifically appreciated the donors whose effort saw to the reality of the gifts.
Ubani prayed that the Almighty God will replenish their deep pockets.
He also used the opportunity to request that the Governor of Lagos State, who is known for his care and love to the physically challenged persons in the State to give an employment in the ministry of Justice to Mr Idowu who holds a degree in both Political Science and Law.
He further explained that Mr Idowu with a double degree will be an asset to the Ministry of Justice and to Lagos State in general.
Mr Idowu, the beneficiary was short of words for the kind gesture.
He explained that it was the desire to succeed in life that made him undertake the venture of acquiring two degrees through begging.
He promised never to be a liability to any person but a huge asset to the nation.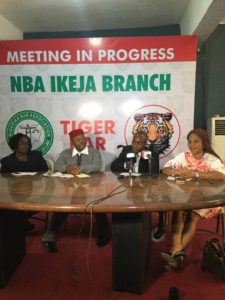 Some of the Executives of the Branch like Mrs Muna Esegine the Secretary who recently turned 50 years and the Assistant Secretary Mr Issa Adedokun witnessed the presentation.